Chiniot, the land of history
A few days ago I went to Chiniot, the land of history, the hub of furniture and very famous for its sweets as well. It was a bright sunny day I and my family decided to eat lunch at 1 o'clock at a local restaurant and we were served the famous food of Chiniot "Kunna" (thick chicken gravy). It was delicious and we were very delighted with the restaurant's crew hospitality.
Fully Rushed Streets
Moving towards the narrow but fully rushed streets of Chiniot I found many interesting things and captured them all in my phone's camera one by one. A welder mending a bed of four legs (Charpai) wearing glasses asked me to snap him while he worked. A furniture maker offered us tea when I snapped at him, a guava seller, a sweet seller, and some other shopkeepers were presenting their good attitude towards us. They were happy to have guests.
Umar Hayat Mahal
Meanwhile, spontaneously we decided to visit "Umar Hayat Mahal" (The palace of Umar Hayat) which has a long history located at "Ghara Mohalla" in Chiniot. Once in a blue moon, my mother told me about its beauty, significance in the city, and its horror view that could be easily seen by my mother's old home which was located near it in "Ansari Mohalla". I always wanted to visit mysterious places and desired to raise the curtain from their hidden uniqueness. That day I was lucky enough to show my eagerness towards the "Umar Hayat Mahal" (palace) and I did.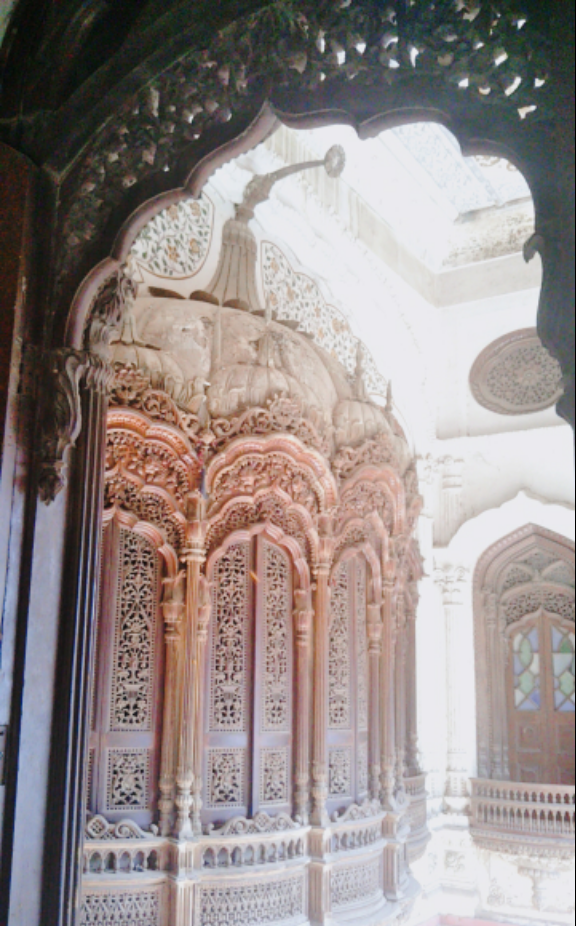 The Path Towards The Main Gate
I and my family entered through the entrance walking on the path towards the main gate. There were small and rough garden areas on both sides. Now, we stood in front of the locked door of the palace building, and not a single person was around. Only a few minutes remained until it would open for visitors.
But suddenly I found a half-opened door on my right side and a man of about 35 years old was lying on a sofa inside that room wearing white Shalwar Kameez. I knocked on the door, went inside, and introduced ourselves to him and he (Mushtaq Shb) welcomed us in a warm manner. He stood up, picked keys, and opened the door that was inside his room. We were very happy with his pleasing attitude and that was the moment we entered the "Umar Hayat Mahal" for the first time.
"The palace made the new bride, the widow within one night"
A fine hall along with at least three double doors on each wall of the ground floor fascinated me with the pure art of wood and colorful glasses on it. Every wall itself constitutes a fine piece of art and culture, exploring the heritage of the Mughal era through the patterns, designs, materials, and architecture employed in its creation.. He told us about Umar Hayat, "who returned from Kolkata, India in 1921 where he was a businessman and built this palace with the time duration of about 9 years till 1930.
The palace has always been a historical place since its creation. Unfortunately, he couldn't reside in the palace for more than 5 years. In 1935, he died and they buried him in a nearby graveyard in Chiniot. Now we were going upstairs and listening to him eagerly. "Three years ago, his son Gulzar got married but bad luck had become a tail of this family and on the very next day of his marriage, Gulzar passed away. "The palace made the new bride, the widow within one night". It was a freezing moment for all of us that what was going on with them.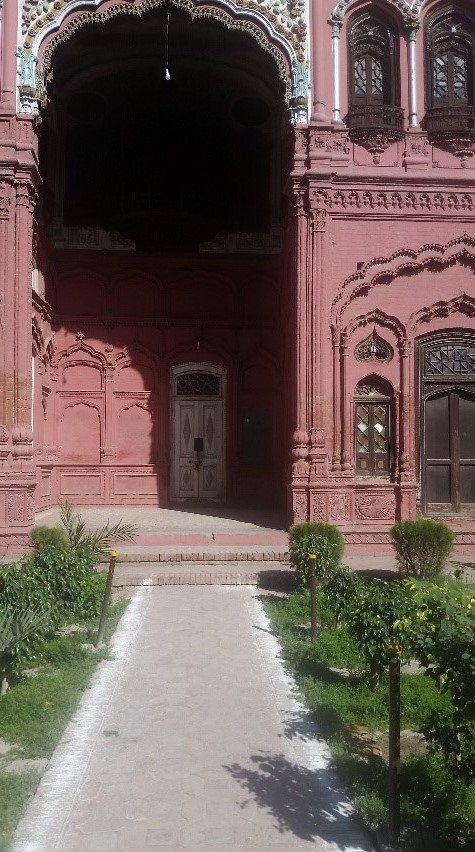 "Manhoos Mahal"
"If we couldn't live in this palace in our lives but after death, we shall be here." On his mother's will, they buried Gulzar in the center of the palace hall. The new bride left the palace leaving many folk tales behind her. The palace was called "Manhoos Mahal" (Jinxed Palace) by the locals. Hayat's wife Fatima used to live alone with the grave of his son in the palace.
It had become a place of horror and fear. No one would like to visit Fatima and many people avoid talking to her. Some good friends had feelings for her and somehow they used to share her sorrow with their selves. Time had taken its toll, and just a year ago, Fatima had passed away. In accordance with her will, they buried her beside her son's grave in the palace. Ah! Seriously, if bad luck would have a face.
Umar Hayat Library
"The family was over with the palace within 9 years. But the story did not end there. The palace turned into an orphanage and some people from the "Machi" community made the palace their residency for about few decades. Then in 1991 District Govt. took over the responsibility of the palace and opened it for people to visit in as well as named it "Umar Hayat Library". Also, it has now been serving as a library and a visiting place at the same time since 1991".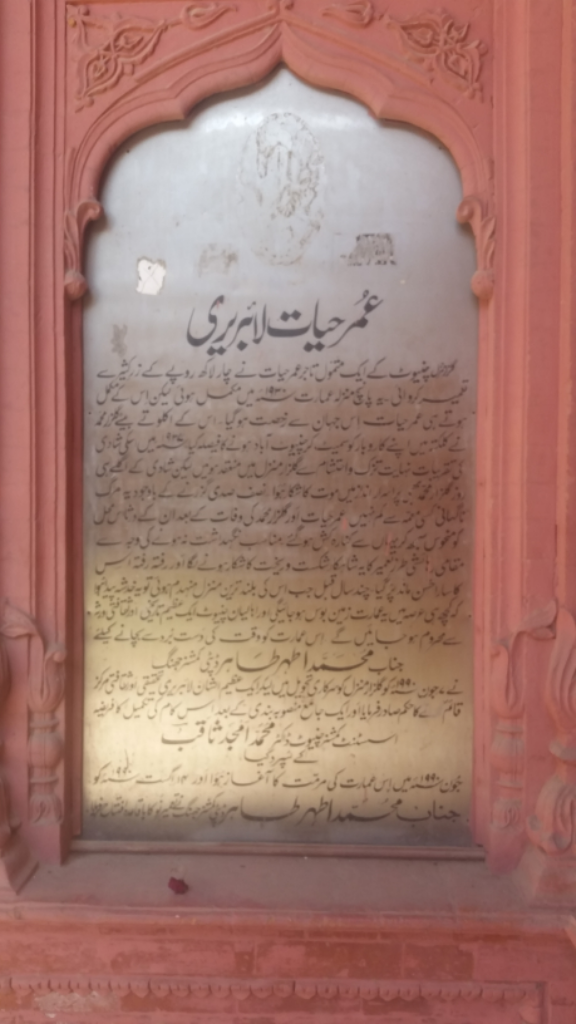 Biggest Contribution of Artists and Designers of Ancient Times:
A three-story tall building holding a wonderful heritage of interior design and architecture of past generations. The wooden stairs with American style and heart-shaped wood on the second story's walls and eye-shaped ventilators ultimately appeal to the tourist's interest very much. An open flower-shaped (Jharoka) terrace and its attractive delicate structure completely made of wood, still show its worth in today's time. Designers created each roof with a unique pattern of beauty, exploring various dimensions of art and culture.
The palace is the biggest contribution of artists and designers of ancient times and a huge deal with the research scope in the tourism department. I hope it will remain open for people always.