With its 2 billion users and more than 82,000 videos viewed per second (including 70% on mobile), YouTube is undoubtedly the leading audiovisual entertainment platform. Yet YouTube's services are far from complete. For example, it is not really possible to manage or organize the channels to which we are subscribed.
So, it is often difficult for a regular user of the platform, having accumulated a large number of subscriptions, to find the useful content he needs. It is to solve this precise problem, that Dima Nabok, a Ukrainian developer to create PocketTube.
What is PocketTube and how can this tool improve the user experience for YouTube users? This is what we will see together in the rest of this article.
SocioON Pakistan top leading Social Media. The fastest way to go viral and connect with friends, family, and other peoples.
What is PocketTube?
PocketTube is available as an extension on Chrome, Firefox, Edge, and Opera, but also as a mobile application available on Android and iPhone. Thanks to this extension/application, you will be able to manage your YouTube subscriptions in the simplest way. Note that the extension fits perfectly into the YouTube environment.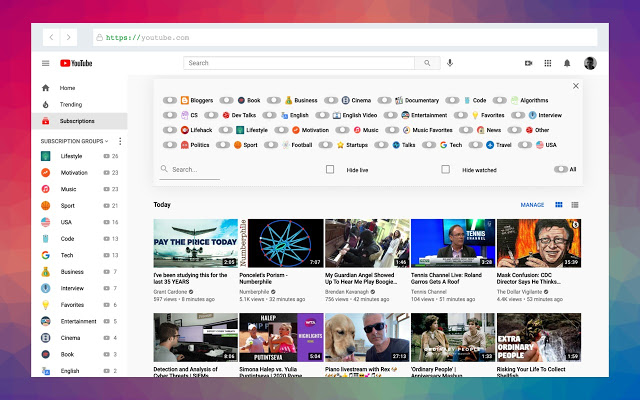 PocketTube allows you to create groups to categorize your favorite YouTube channels and videos. So you won't waste your time looking for a particular YouTube channel or video.
Also, if for example, you subscribed to 4 tech channels and 5 comedy channels, you probably don't want to see videos from all of these channels appearing in the same feed. Well thanks to PocketTube, every video is classified in the category that corresponds to it.
Continuing with my example, if you want to go to the tech group, you will only see the tech videos that you haven't yet watched that you have subscribed to. In a simpler way, PocketTube allows you to group the channels dealing with the same subject. But in addition to that, this extension also allows to: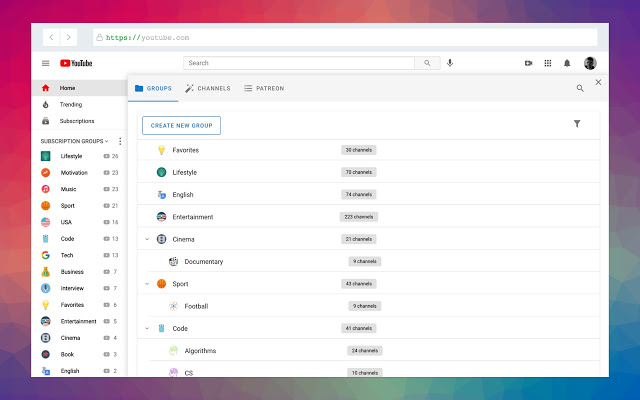 Create a group tree with strings
Share a group with friends
Show channel status
Perform batch actions for channel management
View videos and community news by group
How to use PocketTube?
Once installed, the extension integrates into the left sidebar of YouTube. Then you will be prompted to create groups and add channels to them. Note that a channel can be added in several different groups. For each group, you can define an icon from the proposed list or upload your own image. In addition, a new button appears in the YouTube interface (precisely below the video) to make it easier to add a channel to a group.
In addition, the PocketTube extension has a fully functional group management window where you can create, edit or delete a group, add group subscriptions, and share the channel and group list with friends.
Conclusion
To conclude, PocketTube is essential for YouTube users who subscribe to a large number of channels and want to better manage all their subscriptions. And although it takes a little time to set it up, PocketTube will save you even more time down the road.