We Lahoris take this question very seriously "Aaj Khanay Mai Kiya Khana Hy?", whether its breakfast, office/college/university lunchtime, dinner at home, or with friends. This is serious and very hard to answer. Usually, the first thing I do, when I hear of an opening of a new café, is looking for reviews. Trust me; it matters a lot.
Four years ago, I heard of this Arcadian Café opening in the heart of Gulberg. My friends made a plan, and so we went to try it out. I was excited but scared too. Scared because of the risk I was going to take plus the money I was going to spend on it. What if it's all go to waste? What if I hate the food? My moment will be ruined. Btw, I'm very picky about my diet. If the menu doesn't best describe what they have, I will certainly not order it. Well, still, I went on the basis of the reviews I heard.
We went for lunch. The café is near the mini-market roundabout located on the first floor, and the stairway to the restaurant is kind of impressive. As soon as I entered, the blue-black effects make it feel like you are entering a club followed by the blueish bar that caught my attention.
The first impression is the last. Not that it's something I believe, but in case the first impression amazed me. The seating area was quite comfortable, and the whole environment was quite welcoming.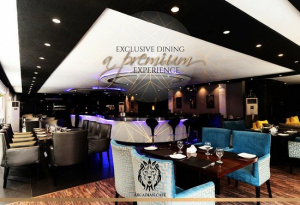 The menu was very well described in every dish. It actually had a diverse range of cuisines from Asian fusion, Italian, French, continental. All ever under one roof. Wow. Even though its an expensive café, not a place where one can go every week for our aimless gossip spot, but its worth if you want to go on a special date or even have a professional meeting or want to make a heavy first impression on someone then this is the perfect place.
The décor, furniture was impressive. A very comfortable, classy environment was there. The place radiates a perfect blend of dining restaurant and café, two in one!
We ordered Southern Fried Chicken with pineapple, Poulet Milano, Fettuccine Pasta, Arcadian Special Sandwich, Sommo Supremo, Red Dragon. We did not have to wait that long, and the waiters served us our food and wow. Every dish was very tasty, that we had completed our food within minutes. The quality and quantity of the food were more than enough that could savor up one's fill. The presentation was up to the mark. Ingredients were perfectly balanced too.
We all have separate stomachs for desserts! So, we ordered Lindt Chocolate Cheesecake, Molten lava cake. How can everything that we order be so tasty???? Truly, this place is worth all the money spent (Kidding, don't spend all your money here :D)
The only thing I didn't approve of was the prices. It could disturb my monthly budget. But if you are looking for something worth trying other than desi, then this is definitely the place you should go to.
After the success of this café, their unique selling point is obviously the creation of quality mouth-watering food, so they opened in Packages Mall, Emporium Mall. It is running successfully because of its quality food, excellent ambiance, and friendly service. A worth its place.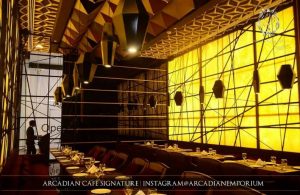 The whole staff also deserves a thumbs-up! Really trained and friendly. A café promises to be a foodie's delight.
Arcadian Café is brimming with splendid experiences for those in search of unforgettable food.