Gilgit Baltistan region has a total area of 72,496 sq. km with around 2 million population. It lies at the extreme north of Pakistan. It is surrounded by four borders. Gilgit Baltistan is considered to be the most amazing region. Thanks to its various beauty.
Unique landscapes, evergreen forests, cold deserts, snowcapped mountains, and great cultural heritage are the attractions. It is a famous tourist place. It seems like a paradise for mountaineers, trekkers and landscape loving people. You can experience cool weather over there throughout the year. It is surrounded by the highest peak in the world and is famous for trekking, climbing, rafting, camping, and paragliding.
There's so much to do in Gilgit Baltistan. No matter what time of year you visit, you will enjoy this beautiful place. Spring bursts forth with tree blossom, making it one of the best times to visit beautiful valleys. In summer, you can enjoy hiking, mountain biking, swimming or climbing.
Autumn brings the falling of leaves from trees and the white of the birches in contrast with evergreen conifers. In winter you can enjoy snow activities like snowboarding or skiing. For every season in Gilgit Baltistan, there is plenty to see, lots to do, and everything to enjoy.
Culture of Gilgit Baltistan:

The tradition of Gilgit Baltistan, Pakistan is rich, amazing and precious and it signifies in local traditions, music, and local dress. The dress plays a central role in the identity of a person. Traditional clothing of the region is influenced by local culture, geography, and weather.
The traditional cap of Gilgit Baltistan has played a major role to define the identity of people of Gilgit Baltistan. The cap has different names in the major local languages. In Shina and Khowar languages, the cap is called Khoi, in Burushaski, it is called Phartsun or Pharsen and in Wakhi it is called Sekeed. The design of the cap is slightly different in Baltistan and it is called Nating in Balti.
The Traditional cap is a soft round toped woolen hat. It is made by a local artisan and is available in various colors. Whitecaps are most popular in the region and considered as part of a formal local dress. In many areas people especially the older generation still wear their traditional cap all the time with happiness. They consider it a sign of honor.
The most striking feature of the cap is the peacock plume and the feather stuck in front or on the side of the cap. It gives a very classic look to the cap. It is considered a part of the formal dress cap and used in the groom's dress.
language:
There are many languages spoken in Gilgit Baltistan depending on what district you are in. The languages are spoken here is include Shina, Balti, Burushaski, Khowar, Wakhi, and domaki.
Shina language:
Shina is the largest language spoken in all districts of Gilgit Baltistan, including its all variations. Shina is also spoken in some parts of Kargil and occupied Kashmir, India. People speaking Shina as mother tongue are known as sheens/shinaki.
Burushaski language:
Burushaski language is spoken in Hunza Nagar, also in some parts of Gilgit, Ghizer and occupied Kashmir, India. The language is also spoken in Yasin valley with a slightly different ancient. The people speaking Burushaski as a mother tongue are known as Burushos/Hunzukuts.
Balti language:
Burushaski language is spoken in Hunza Nagar, is also some parts of Gilgit, Ghizer and occupied Kashmir, India. The language is also spoken in Tibet with a slightly different ancient.
Places in interest:
Bag rote valley: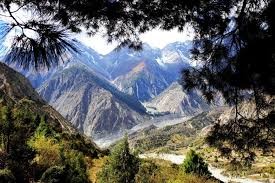 Gilgit-Baltistan is the most beautiful land in the north of Pakistan. The Karakorum Highway runs through it on its way to China. Gilgit Town is the capital city and the entrance to the Bag rote Valley is roughly 17 kilometers from Gilgit.
Once into the Valley, it takes about 3/4 hr. to reach the village of Datuche by jeep. The roads are precipitous and prone to rock falls. It is an adventure in itself to travel in the Valley.
Weather in the mountains is difficult to predict but there is a general pattern. The winter months of December, January and February are very cold at night. Snow falls on the upper Valley to a depth of about 1-2 ft. and stays on the ground. Lower down in Chira, Balochi and Farfooh snow is less and does not stay for long. In Datuche, Hopay and below there is a sprinkling and some ice underfoot. Spring and autumn are cool and pleasant. The summer months of June, July and August are hot by UK standards.
Dan yore Bridge: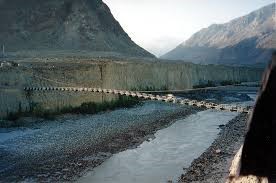 If you are an adventure junkie, then you should not miss out on the experience of Dan yore dangerous bridge. The bridge constructed over a half-century ago constructed by locals without any proper civil engineering material. Dan yore valley is facing Gilgit town and it is the nearest Park's entry point, the valley ends with the amazing Rakaposhi south face.
Kargah Buddha: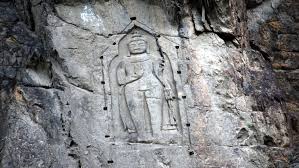 Before the introduction of Islam in the region, the people used to practice Buddhism or multiple forms of religion. The introduction of a rich cultural heritage and spread of Buddhism is deeply linked to the silk route of Gilgit Baltistan.
Historical facts reveal that religious Buddhist caravans used to stay in a monastery here while passing through Gilgit. Kargah Buddha which is called Yashani in a local language, a unique archaeological site a 7th century Buddha figure carved deep into the solid rock located outside of main Gilgit city about 9 km.
Large standing Buddha with a carved image in the cliff-face in Kargah Nala. Nearby towns are Barmas, Khur and Napura Baseen are adjoining towns. Since the 3rd century to the 11th century, Gilgit was a Buddhist center, a Buddhist monastery and three stupas containing Sanskrit manuscripts that were excavated in 1931.
According to an estimate the carving was completed in the 7th century. The Buddha was discovered along with the ruins of a Buddhist monastery and three stupas about 400 meters in 1931.
Every year thousands of Buddhists from Japan, Korea and other parts of the world come to Gilgit city to see the Statue of Kargah Buddha. According to Tourism Department GB in the year of 2018-19 more than half a million tourists visited Gilgit to see the Buddha.
   Naltar Valley: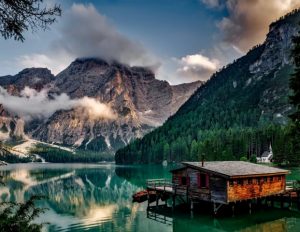 Naltar is a valley near Hunza, Gilgit Baltistan. Naltar is 40 km (25 mi) from Gilgit and can be reached by jeeps.  Naltar Wildlife Sanctuary was created on 22 November 1975. It occupies an area of 27,206 hectares (67,230 acres) along with two other areas.
The sanctuary is forested, there being a luxurious growth of mixed montane broadleaf and coniferous forest at lower altitudes and montane coniferous forest higher up. Coniferous species present include Picea and Juniperus. Deciduous trees present include Fraxinus, Olea, Pistacia, Sageretia, Betula, Salix, Populus and Krascheninnikovia ceratoid.
Herbs present include Artemisia, Haloxylon and Stipa. A small number of Astor markhor, an endangered species of wild goat, lives in the reserve. Other large mammals present include the Alpine ibex, the snow leopard, the brown bear, the grey wolf, the red fox, the beech marten, and the leopard cat.
About 35 species of bird have been recorded in the sanctuary, including the Brooks' leaf-warbler. Naltar Valley is located around 40 from Gilgit. There is direct public transport available from Gilgit.
Naltar is famous for its colorful lakes, three of them are reachable by jeep from Naltar village. The climate in Naltar Valley is moderate during summers. The temperature in July-August reaches a maximum of 22 °C.
Attabad Lake:
Attabad Lake, Gojal, also known as Gojal Lake, is a lake in the Gojal valley of northern Pakistan created in January 2010 by a landslide dam.
The lake was formed due to a massive landslide at Attabad village in Gilgit-Baltistan, 9 miles (14 km) upstream (east) of karimabad that occurred on January 4, 2010.
The landslide killed twenty people and blocked the flow of the Hunza River for five months.
The lake reached 13 miles (21 km) long and over 100 meters (330 ft.) in depth by the first week of June 2010.
Passu Valley: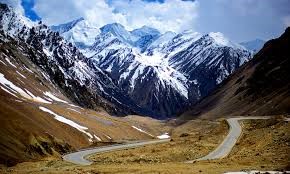 Passu plays a vital role in a tourist attraction. It is the junction of three great mountain ranges of the world, the highest peaks like K2, Nanga Parbat, Gasherbrum, Masherbrum, Rakaposhi as well as Deosai Plains, huge Glaciers like Baltoro, Batura, scenic valleys.
There are so many places to wander about the Gilgit-Baltistan Region but a tiny area of Passu in Hunza has a great distinction and immensely famed among tourists from all over the world because of its location along the Karakoram Highway (KKH). It plays a role as a junction point between the nearby Passes and Glaciers. Passu village is some 14 kilometers away from Gulmit, which is the Tehsil (Sub-Division) Headquarters of the Gojal Valley of Gilgit-Baltistan and about 150 kilometers upward of Gilgit and lies on the brink of Passu Glacier.
Batura Glacier (the fifth-longest non-polar glacier of the world) is in the South of Passu and just 56 kilometers away from the Karakoram Highway (KKH). Passu Village is between Hunza and Sost, adjacent to Khunjerab Pass from where the border of China is on a distance of a few kilometers. The total surface area of the village spreads over 1,050 square kilometers. The village looks beautiful with a unique landscape, the highest mountains of the world, the meadows, the barren lands, the terrains, the plateau creeks as well as the glaciers.
Gulmit Village:
Gulmit, meaning a nest amidst flowers would really live up to its definition as you will find on your visit. Gulmit is the most visited region of Gojal Upper Hunza Valley. Gulmit is famous because it is the gateway to five valleys, Shimshal Valley, Chipursan Valley, Misgar Valley, and Boibar Valley & Khunjerab.
Adding more to the beauty of Gulmit, standing at the Northern end of the Valley, is Mountain Tupopdan. Inspired by its unique structural attributes tourists have promoted the peak by giving it new names, some call it " Passu Cones" and other " Passu Cathedral" mount Tupopdan is the most photographed peak of the region.
It is a Valley of nine Colors Mountains surrounding in its unique images. It has a unique place on the world map. With a rich history and deep-rooted culture. The climate in Gulmit is called a desert climate. There is virtually no rainfall during the year in Gulmit. This location is classified as BWk by Koppen and Geiger. The average annual temperature is 8.9 °C in Gulmit. The average annual rainfall is 113 mm.