"What really matters for success, character, happiness and life long achievements is a definite set of emotional skills – your EQ — not just purely cognitive abilities that are measured by conventional IQ tests."  — Daniel Goleman
What is emotional intelligence? Why does it matter more than Intelligence quotient?  The simple meaning of emotional intelligence is the best use of your creative emotions and intelligence to assess the emotions of ourselves and people around us in a mutual- beneficial way. Robert K. Cooper. Ph.D. defines EQ as ,
 "Emotional intelligence is the ability to sense, understand, and effectively apply the power and acumen of emotions as a source of human energy, information, connection, and influence."
Minds and emotions are strongly linked and they do overlap each other at occasions. Eric Jensen says, "There is no separation of mind and emotions; emotions, thinking, and learning is all linked." We need to create a balance between these to conflicting forces remain in a state of war all the time in our brain. This is the reason why greatest battles are fought within us. Travis Bradberry and Jeans Graves write in their popular book,' the rational area of your brain (the front of your brain can't stop the emotions "felt" by your limbic system, but the two systems do influence the each other and make constant communication. The communication between the rational and emotional " brains" is the physical source of emotional brains.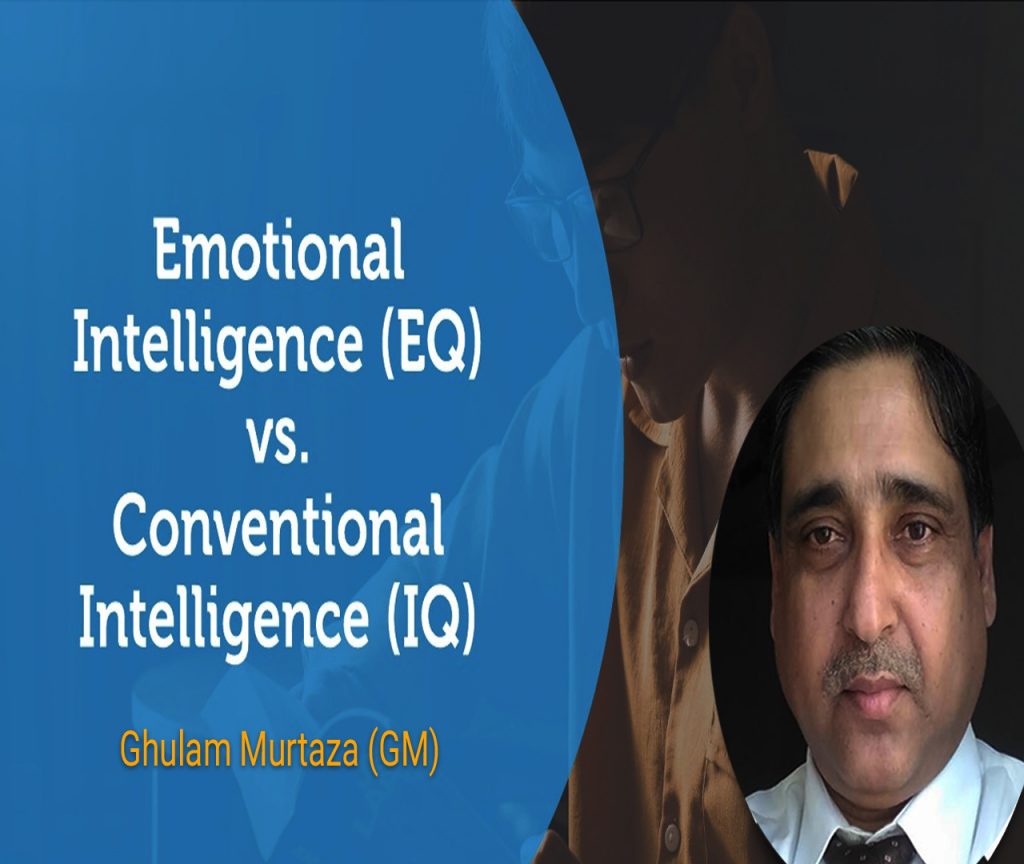 It is said common sense is not so common as perceived. Similar is the case regarding EQ level, its estimated 36% in the Western world, you can think where self-discovery does stand in the third world? It simple means 64% do not know even themselves, what to say for others! It accedes the psychological theory that 50% do not know about ourselves. Perhaps this is the reason behind the Divine statement, " one who recognizes himself, he recognizes Him. During my practice, perversely, I have to frequently deal with the many highly-educated and well-travelled persons low on emotional intelligence. They are unable to manage their frustration in unsolicited condition. My record was also not good in the past as there was no one to propound I was annihilating myself in many areas. Good on the high score of EQ level doesn't smoulder.
An American survey report unveiled the people higher on the index of IQ level bettered those had average IQ level just by 20% but the 70% with an average IQ level out-performed those high on IQ level. This survey revealed IQ level is not a sure sign for success. It's further estimated that EQ accounted for 58% success in all kinds of Jobs. And the link between EQ and earnings is so direct that every EQ point adds $1300 to an annual remuneration. 90% of high performers were also found high on the EQ level. This is the reason why the candidates with high IQ levels are outperformed by those who are high on EQ level in Pakistan army's requirement. Definitely, they hunt the talent not only the best on EQ level but also on AQ (Adversity Quotient). 
It's a divine gift and you may deem it a stroke of luck! Is it like a growth mindset? Yes, you may adopt strategies to promote it which will be enunciated in any succeeding article due to the fear of space.
Coming to the kernel, there are 5 variables of emotional intelligence i.e motivation, self-awareness, self-management, public awareness, and public management. It's path-breaking research to relate all the variables with features of hands to get a quick score of EQ level at any age. They have a perfect relation with the fingers. The thumb is the significator of motivations and will power. The long and strong thumb is meant the person is higher on the motivational score. The index finger is attributed to Jupiter is a known indicator of self-awareness. Good straight finger stands high on the self-awareness. A tilt towards Middle finger and comparatively shorter than ring fingers reduces the score on self-awareness. The third variable is self-regulations reflected by the middle finger. The middle finger slanting to the sun finger or extra-large loses the score of this variable. The straight good sun finger longer than index finger is high on public awareness. The little finger is not so little as seen. Twisted and small finger never seen good at intimacy and public management due to communication issues. Are the other signs like mounts, skin and lines have nothing to do with it? They are but their role is complementary to the prime significators, the fingers. You may assign weightage to every finger to draw the score. A small practice can make you expert to calculate it.
IQ level can be found from the hands' index from the following formula which is not mine. You may divide the width of the palm, to be measured from point to point from the starting points of heart and headlines on the length of total palm to be measured from the first bracelet to end to the middle finger. ( width of palm/(length of palm+ Length of middle finger). The rule of thumb is 42 score, which is a reference point of Eien Stein's. Closer the score higher the IQ level.
 By Ghulam Murtaza (GM)
++923367307898