Born in 1961 in Rawalpindi, Pakistan. Asad Umar is one of the prominent members of PTI.
From Finance Minister to Minister of Planning & Development
Background:
His family has a long history of a military career and is the youngest among seven siblings. He has completed his MBA from the Institute of Business Administration, Karachi in 1984. Even though he is an eminent political figure, he is similarly well known and regarded in the light of his job and commitment in Pakistan's corporate part.
Career Before Politics:
After graduating, he started his career as a business analyst at Engro in 1985 and worked for it abroad in Canada when the famous management buyout of Engro took place in 1991. In 1997, Umar came back to Pakistan and was appointed as the first CEO of Engro Polymer & Chemicals and later was elected as the President and CEO of Engro Corporation in January 2004. He transformed the business from an essential chemical company into a giant bulk.
Why did he leave the corporate world to join politics?
Asad Umar felt that there was space to make a positive effect in attempting to have any impact in Pakistan by taking an interest in standard governmental issues by joining PTI in 2012. He was made Central Senior Vice President of PTI that year.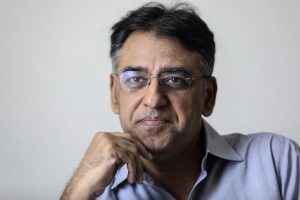 Asad Umar accepts that central change in the framework can just come through chosen representatives in the National Assembly. This is on the grounds that the opportune individuals think of and actualize the right arrangements, adding to each individual's privileges being secured and subsequently adding to a general public dependent on justice and equality.
He joined Pakistan Tehreek-e-Insaf (PTI) in 2012 and was made senior vice president of PTI.
He was elected to the National Assembly of Pakistan from Constituency NA-48 (Islamabad-I) as a candidate of PTI in the by-election held in August 2013. He received 48,073 votes and defeated a candidate of the Pakistan Muslim League (N).
In 2014, Lahore University of Management Sciences canceled a planned speech of Umar due to it being political instead of educational.
He was re-elected to the National Assembly as a candidate of PTI from Constituency NA-54 (Islamabad-III) in 2018 Pakistani general election. He got 56,945 votes and crushed Anjum Aqeel Khan. Following his successful election, Umar was named as the potential candidate for the office of Minister for Finance, Revenue, and Economic Affairs. On August 20, 2018, he was sworn in as Federal Minister for Finance, Revenue, and Economic Affairs in the federal cabinet of Prime Minister Imran Khan.
On September 18, 2018, he presented an amended finance bill for the fiscal year 2018-2019 in the National Assembly.
On October 11, 2018, Umar held a meeting with Christine Lagarde, chair of the International Monetary Fund (IMF), and formally applied for the bailout package.
That month news reports revealed that Prime Minister Imran Khan had shown disappointment and reservations over Umar's appointment as Minister for Finance. On April 18, 2019, he stepped down from the Finance Ministry.
From May 8, 2019, Asad Umar is serving as the Chairman of the Standing Committee of the National Assembly of Pakistan for Finance, Revenue, and Economic Affairs. This is a central office as it is above the finance ministry, the chairman can ask the finance minister and his ministry regarding their performance. Moreover, the chairman can also guide the finance minister and the finance ministry regarding their policies.
On July 9, 2019, Umar started working as the Member of Economic Advisory Council (Pakistan) under recommendations of PM Khan in addition to the Chairman of Standing Committee on Finance, Revenue and Economic Affairs.
On September 30, 2019, news emerged that Imran khan will do a reshuffle, in a cabinet, and Umar would return in the assembly. At the hour of his expulsion from the finance ministry, the PM had offered him the portfolio of petroleum minister(because of his background in Engro). Yet, he had declined, saying he would work for the gathering from outside the cabinet… Former finance minister Asad Umar made his way to the federal cabinet as he was sworn in as the minister for planning and development.
President Dr. Arif Alvi administered the oath to the Pakistan Tehreek-i-Insaf (PTI) MNA from Islamabad at a service at Aiwan-i-Sadr.
Asad Umar, who recently rejoined the federal cabinet as the minister for planning and development, stepped down as the chairman of the National Assembly Standing Committee on Finance. The development took place during a session of the committee in the parliament today and in the wake of Asad Umar's new appointment.
National Assembly Speaker, Asad Qaiser, accepted the resignation.
Umar, being the finance minister, will no longer be a part of the committee.
Achievements:
On March 8 2009, Mr. Asad Umar was awarded the Marketing Association of Pakistan (MAP) Award of Excellence for 2009 in recognition of his contributions to the field of Marketing & Management and his decisive role in Pakistan's economy…
He received Sitara-i-Imtiaz by the Government of Pakistan for his public service in 2010 for his public service and contribution in promoting the cause of Pakistan through investments, social service.
Chairman:
Pakistan business council
Pakistan energy and chemical skill development company
All Engro subsidiaries
Director:
State Bank of Pakistan
Karachi Stock Exchange
Oil & Gas Development Company (OGDC)
Pakistan State Oil (PSO)
Port Qasim Authority
Genco holding Company
Dawood Hercules
Karachi School for Business & leadership (KSBL)
Pakistan Center for Philanthropy
Director of Pakistan Dairy Development Company
Memberships
Member Prime Minister Committee on Agriculture
Member Sindh Information Technology board
Member Sindh Endowment Fund for storage of physical heritage in Sindh
Chapter Chair Young Presidents Organization Pakistan Chapter
Member Board of trustees LUMS
Member staff & faculty selection boardIBA Karachi