Rama Shahid Cheema is a much known name when it comes to media and advocacy, her diverse work and expertise in media has made its mark. Having masters in Communication Studies, she is an excellent communicator and motivational speaker.
Rama also has a creative mindset from the very beginning and she also has practical experience in the creative field as she has worked in PTV home and Aplus as Content Head. During this time she was responsible for two shows and both were a class of their own as these shows were highlighting women as their audiences.
She is an avid writer and enjoys writing & managing the content of social media. This is no surprise as she comes from a creative background and has a keen interest in communication. Her work is one of a kind and her love for documentary film making has also taken her beyond borders and she has put her untiring efforts in these works as well.
Stop. Judging. Others.
No woman or man owes you an explanation about the decisions they make regarding their personal life.
🙏🙏🙏 https://t.co/ygzzgNmNFU

— Ramma Cheema (@rammacheema) December 23, 2019
Rama has provided her advocacy services to Punjab Government and she has worked with PWD (Population Welfare Department) for developing its government policy till 2022 and will now be implemented.
Beti (Daughter) | Sustainability with Rama Shahid Cheema
BETI– is a project worth talking and deserves to be shared around the whole wide world. The visionary behind this initiative is none other than Rama S Cheema  who took upon herself to spread awareness and make this world a better place for our daughters to live in.
Our nation suffers from a social crisis that the birth of a daughter is still hated and considered a burden on household. So Rama decided to fight this cruelty till the very end and throughout her journey she is tagging along everyone who holds the same vision and can help in any way.
The birth of female babies is still considered a financial burden and in the underdeveloped areas of the nation it is very much hated, where a poor family will keep on having children until they don't have a baby boy. This highly affects the health of the mother along with the nourishment of the baby daughters that are already in the household. The daily nourishment of baby daughters is neglected and families do not put much care into it if they have more than 2 or 3 daughters.
Through her excellent communication and advocacy skills Rama wants to bring a revolution in our society, where a daughter is loved same as a son and can enjoy same level of care, affection and acceptance by her family.
She wants families to celebrate the birth of a daughter just like they would celebrate if it's a boy. She wants to empower young girls as they can be strong pillar in our society and can take this nation to the heights of unimaginable success.
SocioOn being Pakistan's First Social Media & Business Network feels proud to welcome a visionary like Mrs. Rama Shahid Cheema in our Head Quarters and there was a fruitful discussion about the initiative behind SocioOn and BETI, together we can take women empowerment to the next level.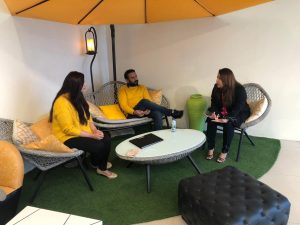 Rama was awarded with a souvenir of Top 100 Intellectual Women of Pakistan by SocioOn.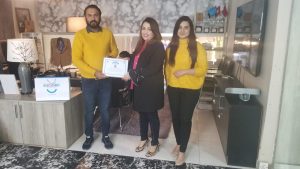 Please Support by Linking and Sharing 'Beti' on Social Media:
Facebook: https://www.facebook.com/betinomisogyny/
Instagram: https://instagram.com/betinomisogyny?igshid=1sk545gqwwmfk
Youtube: https://www.youtube.com/channel/UCO8eH2xLn_IbIwzxtDpWM-Q
Twitter: https://twitter.com/rammacheema?s=09
LinkedIn: https://www.linkedin.com/in/ramma-shahid-cheema-a30788ba
I was presented a shield for 100 most influential women of Pakistan by @socioon CEO Mr Baqar Bilal …Discussed the need for #inclusion of women in formal and informal economy and how Socioon can empower them.#Beti #daughter #empoweringwomen pic.twitter.com/zvDiJI2eCu

— Ramma Cheema (@rammacheema) December 19, 2019