The famous Italian super car company Lamborghini is set to build up a high speed Luxury Yacht by teaming up with The Italian Sea Group- Well, if they call themselves "The Italian Sea Group" they might know a thing or two about Seas and Boats.
Italians are famous for their designs and their exquisite style in architecture and many other lifestyle things. Everything that we use in daily life has some inspiration from the Italian design, like your daily cappuccino to your luxury villas.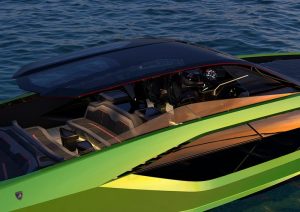 Italy is famous for building the best supercars in the world and Lamborghini is one the best out there for making the best looking sport cars. Lamborghini was initially a tractor making company and was famous for making good tractors in Italy. Things were going well but Ferrucio Lamborghini had a feud with Enzo Ferrari who was the founder of Ferrari and was leading the super car industry at that time. After this Ferrucio decided to build his own supercar company and rest his history.
In 1998, VW bought Lamborghini building its super car legacy and since then Lamborghini has stood up in the market and many new cars have been introduced from the Murcielago to Gallardo, Aventador and the Huracan. Lambo was everywhere, it was the bedroom wall poster for kids and teenagers and also was seen in the music videos of famous artists due to its revolutionary looks and the devilish sound.
Recently Lamborghini has also introduced the Urus which is an Super SUV this was very surprising for the world as Lamborghini was famous for making supercars not super trucks. But Urus was very successful in the market and why not? I mean, come on Lamborghini made it and it had to become a style icon. Once again Urus was seen rolling in various music videos over YouTube.
Now, Lamborghini is ready to take on the Seas and stepping into the super boats and luxury yachts market by introducing Tecnomar for Lamborghini 63. Recently Lamborghini has unveiled this new masterpiece and it looks like a car on the sea. Tecnomar for Lamborghini 63 depicts that traditional Italian design and notorious looks which are trademark of Lamborghini.
Tecnomar for Lamborghini has two V12 Engines on board pushing its 63 feet with 4000 horsepowers. This luxury yacht weighs 24 Tons which ranks it among the lightweight yachts of today.
The price tag of this ultimate luxury is 3 million Euros and is going to be a limited edition with making only 63 editions. Let's see how this partnership of Lamborghini and The Italian Sea Group pans out.
However, we can expect seeing Tecnomar is various music videos and being a style icon and a must have for sportmen, artists and famous people around the globe.