Famous Rapper and Businessman Kanye West said in a tweet that he will be running for the next president of USA in 2020 Elections
We already know about Kanye West is famous for his outspoken and surprising statements in the past but we know that he is doer and with this "Can do" attitude he has achieved many things in life. However, his current wish seems to be very much unrealistic and out of the way as he has no background of politics in the past but still he wants to take charge of the country.
Kanye West is looked upon as an icon in the showbiz industry because of his extra ordinary creative abilities that actually sets the trend in the market.
His most talked about and successful achievement would be "Yeezy", which ranks as the most expensive snickers among the other shoes in the market. Not only these shoes were a big hit in the market but also they set a trend of snicker design all around the world.
We must now realize the promise of America by trusting God, unifying our vision and building our future. I am running for president of the United States 🇺🇸! #2020VISION

— ye (@kanyewest) July 5, 2020
Everyone wanted to get their hands on the all new Yeezys which were limited edition and were running out of stock very quickly. To fulfill this void, many company started making replicas of Yeezys and they were also selling huge stocks of these snickers. Not only this, many renowned companies also got inspired from this new remarkable design as well and started making shoes resembling to Yeezys.
Now this Creative Genius wants to run for the next President of USA, which is the most powerful country at this time. And Kanye West wants to be the man in charge of this country, however he hasn't taken any pratical steps towards making it possible yet. He has only expressed his wish from his twitter account in a recent tweet quoting:
"We must realize the promise of America by trusting God, unifying our vision and building our future. I am running for the president of the United States"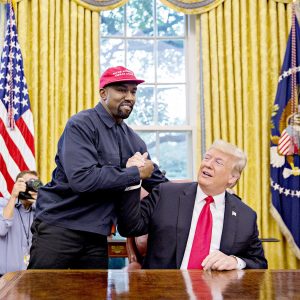 Now, keeping in view that he is not taking practical measures to make it done but he has also expressed it few times in the past as well on various talk shows that he wants to become the President of USA. And now he has said it through his twitter account. So he might have a plan that we will see and that plan might be very surprising for rest of us as Kanye is not an ordinary person, he is a creative genius.
When Donald Trump started his campaign, everyone thought he has no shot of being the president but surprisingly he did win and rest of the world was shocked which tells us that there are a lot of Trump supporters and Kanye West is also one of his supporter.