Iqbal Akhtar Hussain is the Founder and Chairman of SocioOn and Get Group of Companies. SocioOn in the Pakistan's first National Social media and business network. It is a public listed company and the world's first socio-economic social media that connects people through technology because SocioOn is based on technology for Human Development (THD), so you can socialize as well as, earn money. Social media is not time waste anymore.
Background
Iqbal Akhtar Hussain, known as "IA HUSSAIN" in the business world was born on 1st January 1974. In 1990, he started off his career in Garments and clothing business and in 1998 wholesale work in fashion garments, embroidery and block printing. After that he moved abroad in order to extend his line of business and launched 5 fashion stores in Dubai in 2001.
Al-Asal Developers & Get Style
In 2004, Iqbal Akhtar Hussain started land development at Punjab Housing and Commercial Scheme and launched "Al-Asal Developers". In 2005, he launched 14 International standard fashion stores under the brand name of "Get Style" all over Punjab. It is an evaluation in stylish world with eye-catching, attractive and unique products. Get Style is close to nature of life with its natural style.
Get Group
In 2007 due to energy crisis of Pakistan, he started working on energy conservation and after that decided to launch LED based lighting system in Pakistan under the brand "Get Technologies". In 2010 "Get Style", "Get Technologies", "Get Hype Media" and "Al-Asal Developers" were merged to make "Get Group". In the same year started "IncomeOn" a Social/Business network which now goes by the name of SocioOn.
Founder of Pakistani Social Media & Business Network- SocioOn
Iqbal Akhtar Hussain is a business magnate, investor, a patriot and a great philanthropist, whose love for the country led him to do something unique for his country which will become an identity of Pakistan in the near future. Being a true Pakistani, IA Hussain wished to conduct his business activity in his own country thus aiding Pakistani citizens. The most interesting fact about Iqbal Akhtar Hussain is that he does not have an IT background but he has earned the honor of being the first Muslim and also the first and foremost Pakistani to make a Social/Business Media around the world by the name of SocioOn.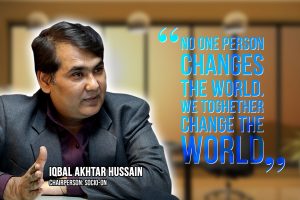 SocioOn
SocioOn is presently operational in 45 countries of the world and it offers more features than the existing social Medias of the world. In addition to that, users may start their own business and promote them using the power of their own social media. This achievement of IA Hussain will be remembered in the history of Pakistan. IA Hussain has set the aim to change the life of masses and rebuild the surroundings.
CSR
The modern day corporate world is now moving towards human development and CSR (Corporate Social Responsibility). Corporate and Social Responsibility is the latest concept that the corporate world is now keen on exploring and Mr. Iqbal has committed to work for the society and play his role in CSR (Corporate Social Responsibility) because SocioOn works on the principle of THD (Technology for Human Development). THD empowers the people and makes them entrepreneurs. SocioOn also works on the Islamic Principle of give and take and Equitable Distribution of wealth so it does not accumulate in the hands of few only but rather spreads to the masses.
THD
THD will help make every citizen of Pakistan more responsible and take part in the development of their environment and at large the development of the country. Today, importance and impact of Technology for Human Development in our lives cannot be ignored. Therefore, every citizen of this country must be made aware of the pros and cons of the information they are getting through this social media and how Technology for Human Development can help to improve the ability to excel in the society. Through Technology for Human Development we can give exact information to develop their skills and improve their knowledge/Business and become productive citizens of Pakistan and play their part in the development of the country.
Top 100 Entrepreneurs of Pakistan
SocioOn recongnizes Mr. Iqbal Akhtar Hussain in the Top 100 Entrepreneurs of Pakistan for his outstanding performance in business, philanthropy, capacity building and being a genuine asset for the country. We wish him more and more success and May our beloved country has more people like him who will be a genuine pillar for the success of the country.