Iqbal Akhtar Hussain
I am Iqbal Akhtar Hussain, Founder of SocioOn. Today I am going to tell you my life story. Who I am, who I was and how I got here. I am going to share all the ups and downs of my life.
Back in 1988 when I passed 8th grade and after this, I passed 10th in 1990. After 10th I have done my FA in 1992. I had a lot of friends and we used to hang out a lot because my father had a Government job he used to be busy and my mother was lenient and loved me a lot.
She is a very simple lady and both my father and mother are alive and well today (Alhamdulillah).
I used to act as the most obedient and nicest boy in front of my father who had an off on Friday so I used to massage my mother's feet the day before his holiday so she would not complain to my father about my hangouts.
It was my routine to go to school, then straight to the cinema to watch movies.
Once my father did not come home for 2 months because he did not get the salary for these months. That was because he is strictly against bribery and due to this reason he got suspended but he never caved in because of his anger and pride.
He is of the belief that neither would he participate in an activity related to corruption, nor would he let anybody gets involved in that. He used to advise me to only do a job if I had no conscience because doing a job for somebody else stifles you as well as your creativity, he always encouraged us to be entrepreneurs.
His monthly salary was 3200 and he used to give 2200 to my mother so we never have to worry. He was a Belf in session court, he could have made a lot of money by illegal means but his faith never allowed that. His salary was comparatively less but still, my mother always tried her best to save up.
When my father couldn't get a salary for two months we faced many difficulties, I was the eldest so I gave my full support to my mother. Once my mother cried because we ran out of firewood and couldn't make food, then I took matters in my hand is the oldest son and searched for wood for two hours.
Similarly on Eids, instead of buying new clothes, we used to buy school uniforms so we could save money. When my father returned home, I insisted that I work in a factory but he told me to study and then start my own work, but I did not have enough money to do that, but my father assured me his full financial support.
I still decided to work and went for a night duty in a textile mill, the four hours I worked there was my first and last job.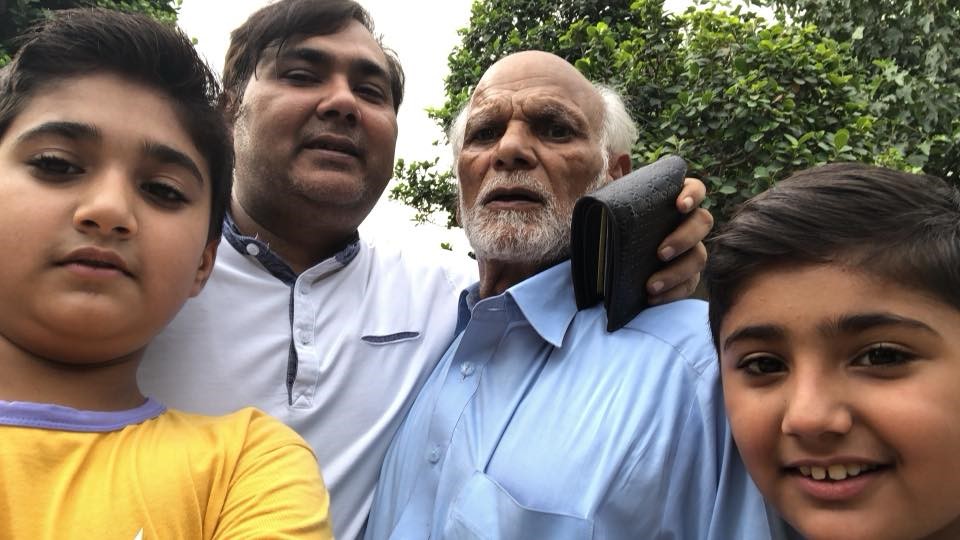 I came back home after that and waited for my father, he came home on Thursday and I told him I have found the work that I am going to do. I decided to go to Faisalabad and get cut piece clothes and sell them. I still remember I had 3000 Rs.
And after offering Fajar prayer I and my father went to Faisalabad "Lal Mal" and started looking for cut piece clothes, those cut pieces were actually rejected pieces but it was perfect for the people in the village because it was inexpensive.
We purchased clothes and came back home at night. This was the first time I traveled to another city with my father but within 1 week I earned double the amount because a lot of women came from the neighborhood to purchase the clothes and it got sold out within a week.
Now I had a grip on my work and I got the hang of it, every week I used to go to Faisalabad to purchase the clothes and sell it out by announcing through drums. Business kept growing and I started earning in Lakhs and I started the same practice in the neighboring villages as well. This kept going on for a year.
Iqbal's embroidered cloths Business
Then I started purchasing plain white clothes, got it embroidered by the village women and sold it in wholesale in Azam Market Lahore. Eventually, every house in district Kusur knew about "Iqbal's embroidered clothes". I became a workaholic and because of that could not stay in touch with friends and could not continue to study as well, the only thing that stayed with me was my cigarette.
Life Changed
In 1992 I got a car and bought a beautiful house, I was still a kid but was dealing with big merchants of Lahore because nobody at that time was doing this work at this massive scale. The merchants begged me to sell my stock to them because they used to sell it at much higher prices abroad.
I earned a lot as well but I had prayers of those thousands of women who worked from their homes and earned money. Then I opened up my own wholesale shop in Anar Kali Lahore and invited everybody, at that time Baqar completed his matriculation from a good school and good grades, he used to help me out in work as well. He is a very good designer and he used to design clothes for the shop.
I had another partner as well who lived in Karachi, he invested one and a half lac in business and the work was in a position where people paid in advance for the orders and used to wait in hotels for it, the entire merchant force of Karachi was my client who exported the garments.
Then I did an exhibition in Saudia and earned a lot. I forgot to mention that I completed my matriculation in 1990 privately. After the stock sold out in the exhibition I came back to prepare for the next one.
The exhibition was in 1999, my container reached Kuwait but UN sent their inspectors there and because of the unstable conditions exhibition got disturbed and I had to come back without my stock. After 6 months when I got it back and there wasn't even half of it left, I had to face a great loss and accumulated a lot of debt. I had to sell my cars, house and closed down shops. I stayed at home for 2 months and had to sell out my own stuff to pay off my debts but then I started working again.
My partner had a shop in Orega center, I made an office there and went to Saudia again, I performed Hajj that year as well as made an appearance in 2 3 exhibitions and Allah rewarded me once again and work became stable.
I came back to Pakistan and opened up a factory for block printing on the wholesale level, all my previous clients started purchasing from me once again and I regained my position in the market.
Dubai Visit
Then I went to Dubai with a great stock because it was a 1-month exhibition but another unfortunate event occurred that my passport got stolen. My container went there already but I couldn't go because of a passport. I came back to Lahore for passport and visa but 1 month passed in this process.
I reached Dubai one day before the exhibition, my stall was empty, I cleared the stock and put it all at one place and spent all night beside it, guarding it. In the morning I went to shopkeepers and showed them the samples but it wasn't very fruitful. Then I decided to open up a shop in Dubai and kept my stock in a warehouse for the time being.
I bought a shop in Sharjah and hired 2 employees and handed over the matters to them. I came to Pakistan to get my visa extended. Meanwhile, Baqar grew up and was handling the matters in Lahore factory, he helped me a lot and graduated from a college in Pattoki, and despite getting admission in a Medical school, and he chose to help me in business. He worked and studied side by side and completed his masters in mass communication. I also completed F.A privately in the meantime.
Dubai store did well and I ended up opening 5 more stores and many people were working for me. I got married in 2003. I was 28 when I got married, I did not see my wife beforehand and I am very thankful to Allah that my wife was as per my expectations and we clicked.
I took my wife to Dubai and settled there, I got blessed with a daughter after a year and my life entirely changed, meanwhile, my mother got sick and she wanted me to come back to Pakistan. I went to visit her in Pakistan with family, my mother stopped me at the door and made me promise not to leave her again, I tried to convince her that Dubai business would get ruined but my mother said you will get ten times more than you already have, so I promised her that.
We only brought stuff for a 1-week stay, I had plans to go to England and start a business there but in the end, I decided to sell everything and settle in Pakistan but my sponsor in Saudia was dishonest and caused some losses but I still had enough.
I focused on business in Pakistan, what my mother said came true and everything went well then in 2005 I started a business in real estate, opened up 14 Get Style stores in Punjab, brought LED for the first time in Pakistan and saved up 22 Megawatt in 2 years.
Then in 2012 started SocioON, testing started in 2015 and successfully created a portal solely based on Technology for Human Development (THD) where people can earn as well as socialize.
I have around 15 Million Rupees to my users in 2017 and I learned about the computer as well side by side. Now many people in villages are earning a hefty amount just by using SocioON and socializing and learning more about technology.
In August I launched a campaign through SocioON by the name of "Green Pakistan" through which thousands of trees have been planted, users earn money by planting trees as well.
I am quite tired now, I will write again some other time.