Imran khan leads the Pakistan Movement of Justice and is the only hope for a better future of the country.
Only very few Pakistanis rose to the level of fame that Imran Khan has enjoyed, he is among those people who made the world familiar with our country. Today we will tell you how a shy boy from Mianwali fought all the battles of life, just for the betterment of the people of his motherland.
Early Life
Born on 5th October, 1952, Imran Khan Niazi was very much fortunate for belonging to a well-educated and wealthy Pashtun family. His father Ikramullah Khan Niazi was a civil engineer and his mother was Shaukat Khanum. His father belonged to the Niazi community while his mother belonged to Burki community and it was his mother's genes that brought the passion of cricket in him as formerly his cousins Javed Burki and Majid Khan played for the national team. They were settled in mianwali since his early childhood after which Imran Khan's family decided to move to Lahore.
Imran Khan was the only son among four daughters and he was considered as a shy boy who likes to mind his own business but this was often assumed as he is arrogant but Khan never admitted of him being arrogant. In his early school days, Khan developed a love for cricket following his elder cousins footsteps.
Early Education
At Lahore, Imran Khan attended Aitchison College and the Cathedral School, after this he went to England to study in Royal Grammar School Worcester. He started playing cricket for his college and later started to represent English County Worcester. His cricketing skills were surely noticed and he started rising to fame.
Cricket Debut
In 1971, Khan played his debut match at the age of 18 years old. At this time, he was still a student of Philosophy, Politics and Economics at Keble College in Oxford University. As he belonged to a literate family so Imran Khan concentrated on his studies completely and didn't let sports get in the way. In fact he never joined the team permanently until his graduation in 1975.
Now Khan started playing permanently and acquired his position in Team Pakistan, he quickly acquired a prominent position as an all-rounder and was very much loved by Pakistani Cricket Fans. He came the captain of Team Pakistan in 1982
Due to athletic charm and good looks Khan was very much popular, In Fact being a sportsman he was enjoying the fame of a heart throbbing celebrity. He was often spotted in various get together of friends in England and became very popular in women of England and Pakistan.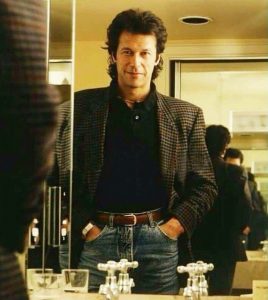 1st ODI World Cup of Pakistan
Under the captaincy of Imran Khan at the age of 40, Pakistan won its first and only ODI World Cup after defeating England in 1992. This was the cherry on Top for the status of Imran Khan and the love of Pakistani people for Khan knew no boundaries.
After winning the world cup Imran Khan decided to finally retire and focus on the societal benefits of his country. He was offered a position in the political party Pakistan Muslim League which was formed by Gen. Zia Ul Haq in 1987 which Khan declined.
Shaukat Khanum Memorial Cancer Hospital
Following the World Cup Win, Khan's life took a major turn as he was indulged in philanthropy rather than the charming celebrity status. He vowed to build up the first cancer hospital in Pakistan which will tend to the needy free of charge and he had to face major hardships to make it happen. He worked day and night to gather funds and in 1994 Shaukat Khanum Memorial Cancer Hospital was inaugurated. The inauguration in itself was a major happening with celebrities coming in from all around the globe who were dear friends of none other than our beloved Khan.
Imran & Jemima Khan
In 1995, Imran Khan married Jemima Khan the daughter of business Tycoon James Goldsmith and the couple became the favorite couple of whole Pakistan instantly. They had two sons Qasim and Sulaiman but this marriage was short lived and after nine years the couple decided to split.
According to Khan, Jemima tried her best to make it work but his political life always came in way and the six months before and after the divorce made it the hardest year of his whole life for him. Jemima still supports his political narrative and it was well noticed in her recent tweets.
Pakistan Tehreek E Insaf
On April 25 1996, Imran Khan formed his own political party with the vision that PTI will be the future of Pakistan. But he had many hardships and struggles on the way, in his first election Imran Khan didn't win any seat and that's how the situation been for a whole decade. Despite PTI winning a single seat or so, there was never any major achievement in the elections for PTI. But Imran Khan held on.
PTI's major focus was on youth and the party gradually gathered the youth towards itself and after 2010 PTI's rallies and jalsas were something needed to be seen. This was the time that PTI rose to fame but in 2013 the party did not win majority and only got 32 seats in opposition. However, PTI formed an alliance with Jamaat-i-Islami and formed government in Khyber Pakhtunkhwa. Now the party supporters had their eyes on next election that it will be the win for IK and he will be the Prime Minister of Pakistan.
Imran & Reham Khan
On January 8th, 2015 Imran Khan married a British Journalist Rehan Khan in a simple ceremony at his Banigala home. This marriage got very much public attention and also received quite some criticism. Sadly this marriage lasted just for nine months and Khan later renowned it as the biggest mistake of his life.
Imran & Bushra Maneka
Three years later Imran Khan married Bushra Maneka also known as Bushra Bibi again in a simple ceremony. Bushra Bibi is his spiritualist and is known to be the reason behind the success of IK. True or not but six months later Imran Khan became the 22nd Prime Minister of Pakistan after PTI winning a staggering 116 seats in 2018 elections.
Prime Minister Imran Khan
Now our Prime Minister Mr. Imran Khan is working tirelessly to make Pakistan corruption free and a better place for our future generation. We are well aware of the hurdles he is facing but we know that Khan doesn't back off until he wins so we are waiting for his moment to shine. In Sha Allah that day is not far.
SocioOn Top 100
SocioOn Pakistan National Social Media & Business Network recognizes Prime Minister Mr. Imran Khan in its Top100 list of Leaders of Pakistan and we hope that under the superior command of Imran Khan Pakistan will become the best place to live in.