How to Set Goals and Achieve Them
Setting goals is an important part of personal development. It gives us something to strive for and helps us stay motivated. But setting goals is not enough. We also need to know how to achieve them.
Here are some tips on how to set and achieve goals:
Make sure your goal is SMART. This means that they should be specific, measurable, achievable, relevant, and time-bound.
Break down your goal into smaller steps. This will make them seem less daunting and more achievable.
Set deadlines for yourself. This will help you stay on track and motivated.
Track your progress. This will help you see how far you've come and keep you motivated.
Celebrate your successes. This will help you stay positive and motivated.
Don't give up. There will be

times

when you want to give up. But if you keep going, you will eventually achieve your goals. learn more here. 
Here are some additional tips for staying motivated:
Find a support system. Having people who believe in you and support your goals can make a big difference.
Visualize your success. Picture yourself achieving your goal and how good it will feel.
Reward yourself. When you reach a milestone, reward yourself with something you enjoy.
Don't be afraid to change your goals. If your goal is no longer relevant or achievable, don't be afraid to change them.
Setting goals and achieving them is not always easy. But it is definitely possible. If you follow these tips, you will be well on your way to achieving your goals.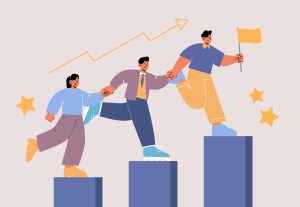 Here are some examples of SMART goals:
Specific: I will lose 10 pounds in 6 months.
Measurable: I will track my weight loss with a food journal and a scale.
Achievable: I will make small changes to my diet and exercise routine that I know I can stick to.
Relevant: Losing weight is relevant to my health and fitness goals.
Time-bound: I have a specific deadline of 6 months to achieve my goal.
Here are some examples of how to break down a big goal into smaller steps:
Big goal: I want to run a marathon.
Small steps:

Sign up for a marathon training program.
Start running 3 times a week.
Gradually increase my running distance each week.
Train for different types of terrain.
Stay motivated and don't give up!
I hope these tips help you set and achieve your goal!
To learn about whats happening in Pakistan click here.