The beginning of this year is not so calm! So be warmth, our Artists are always in a process of spreading love, peace and solidarity but also they keep their eye on board with issues of our society. Now is really a good time to celebrate their thoughts and appreciate their work with both hands.
Today Faith, fertility, woman empowerment, freedom of speech, peace, solidarity, nature, science, even architecture and all abstracts of life have keenly been observed and presented on the walls of FUNPARAY in the form of mesmerizing paintings by the beautiful and talented artists of our country.
    Art has neither shape nor limits, but has a face and lyrics. _ Saqib
Now showing you some masterpieces along with their thought provoking titles.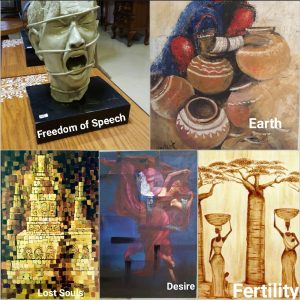 Here is the brief introduction of the artists who have presented their work in exhibition.
Ayesha Ahmed
She is a Fine Artist from Karachi. She had done her 4 years' diploma in Fine Art from the Central Institute of Art and Crafts (CIAC) in 1992. A Fine Art teacher at Pakistan American Culture Center (PACC), participated in competitions, done group shows and won renown awards (SADEQUAIN AWARD and S.S. HAIDER AWARD) as well. Her message to her fans and family is to spread peace and love which she portrays in her work with distinctive approach. She has also observed Spirituality and social issues very closely which can also be seen in her paintings. With an experience of 27 years in her field, now she is doing work in her own studio. Her most frequent code of medium is oil and she does nail it.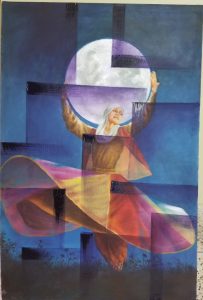 Muneer Shah
Very renowned artist and teacher at The Art Council Karachi. He told that he has done "a to z" in the art in his life and there is a complete clarity in his words. He is super at portrait making and he is known for his portrait making in a best way. He has been honored after making the portrait of The Father of the Nation (M.A. Jinnah). Having an experience of 32 to 35 years he has become a master of sculpture making as well. His strategy of making sculpture has a strong relation with the Quranic Verses and the Science. He has a unique sense of showcasing the abstract in the form of sculptures. He works so hard in making sculptures and his sincerity to his work speaks itself. He did solo show in Rangoonwala Centre as well. his work is based on universal truth. I'm so inspired by him. He tells that "the life of the artist is difficult". He shared his feelings about love for being in the progress with making sculptures and portraits but being a teacher, it is difficult to manage time for yourself in regards of filling the space of love for something.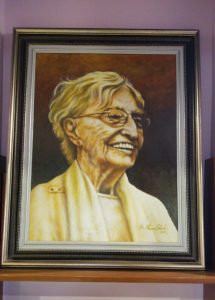 Irum Adnan
Inspired by the French Artists (Monet and Manet), Irum is having an experience of 20 years with showing her love for mystery. A young, talented and beautiful artist has also showcased her work in abroad as she says "when I'm in grade one I discovered my code of interest in art." She did her O/A level from England and followed her path with CIAC in Pakistan. She believes in helping others and making the environment livable. She has also donated her paintings in Shoukat Khanam Hospital Lahore, The Indus Hospital Lahore and in few places more. Her most privileged work she proudly owns is her exhibition at the home of Syed Hassan Javed (High Commissioner of Pakistan to Singapore) in Singapore in 2013.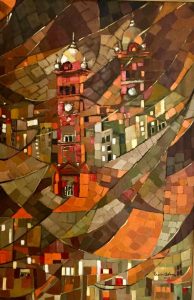 Tariq Akhlaq
A 45 years old, young man has revised his spirit to conquer his will and he did exceptional. I really appreciate Tariq Akhlaq to do what he was blessed to do. An independent artist's first exhibition in which he exposed his beautiful work of coffee on paper. Yes! It's a pure coffee, once a time, some coffee spread on his work when he was drawing something on paper and apparently it looked awesome to him. So he made it his most frequent medium. His master's degree in geography is no more just a degree but he uses his skill and love for the history of architecture in his painting and the details of the painting are not believable. It's just iconic! He has showed us Bait-ul-Muqadas (Dome of Rock), Baobabs Trees (Trees of light), Motherhood as he believes that the woman is a provider. He told that it takes 1.5 to 2 months to complete one painting. It's been 2 years working him on these masterpieces.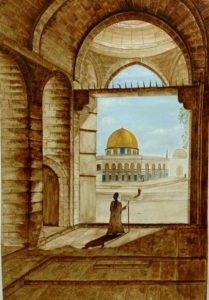 Noshat Gohreen
She is a unique observer of the society. She sees things differently. Her contribution to the art industry is having the titles of reflection, silence, happiness and pain of a working woman and also woman empowerment. She has also showcased her beautiful work in Singapore and Hong Kong. She proudly told that she has participated in 1st Islamic Exhibition there. She is also good at sculpture making. She is a well-known name of CIAC with an experience of 25 years. She uses pilot knife to make strokes in her paintings. She also runs her Facebook page with the handle (@Gohreens).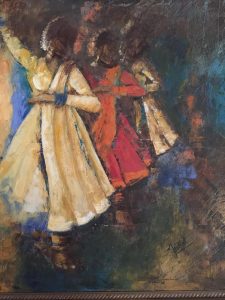 And the all credit goes to Nosheen Tariq. Because she made FUNPARAY a place where everyone would love to spent time more than one could. The Gallery is all set with small and stylish furniture and beautiful setting of each hand craft.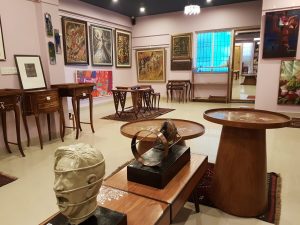 A place where you can feel colors, talk to the paintings and be cozy. Nosheen's place is a reflection of her own self: Welcoming, colorful and talkative. You must be an eye witness of this beautiful place this year.