Saddar, Karachi is the place where the market was chosen to build in regards of commemorate the Queen Victoria (Empress of India) after the World War I in 1880's. It was one of the biggest market of the city where almost everything used to be sold and purchased with an international tag also. After partition it had become a hub of many goods imported by many countries around the world. The ground yard of the market is very wide, many shops were set up there and four gates of the market used to welcome people to enter with the reasonable range to maximum commodities.
In 1965 Karachi Metropolitan Corporation (KMC) had widen the range of shops in outside grounds of the building where many hawkers had got their livelihood resources with great amount of customers. Empress market was known for its diversity and availability of casual items. It was a very common place where many people from different background used to interact with each other as Saddar is very diverse town of Karachi where difference of gender, religion, culture, communities and language could easily be observed. As there is a big Church near to the Market. Many Hindu women use to sell dry fruits sitting in at the gate of the Market.
Besides of everything the building of Empress market is the heritage and also it defines a culture which has its own worth. In the center the "Clock Tower" reminds us of the British era, its beautiful building with high roofs is a proof of best architecture and the fine colors of old time and patterns are gracefully showing the real art. Broad stairs, tall pillars and each and everything is of good matter.
In November 2018 as the new elected Prime Minister Imran Khan has announced that the Empress market will be transformed into the museum and library and all shops and shopkeepers will be transferred into the new building which will be built near to the market with the name Empress Mall "within a month" and also claimed that all these shops are illegally built so they (shopkeepers) will not be allowed to be here anymore. It was the heart breaking news for the shopkeepers and customers as well as they have been a historical part of the market and they have emotions attached with their grandparent's business and with the place they are in right away. They would have never been prepared for this and it was absolutely unexpected and shocking move for them. In one side as the order has passed and the other side the implementation has been started and that was more surprising move the nation had witnessed.
It was a Sunday early morning, the bulldozers were being used to crash the outside shops of the market without letting people know of what is being done with them, the clear dictatorship could be seen that day in Saddar. People of the surroundings started shouting and there was a mess almost but democracy was being trashed with the pieces of bricks of shops there.  KMC recall the order of the current government that the alternative place to their business shall be given to them "within a month". Besides of this, also belongings of the shopkeepers were destroyed in that crash period and shopkeepers would never been allowed to take their belongings off from their shops. It was a sudden action in which the electricity of the market had also been disconnected in fact the meters of shops were taken off claiming that the market is built by encroachment.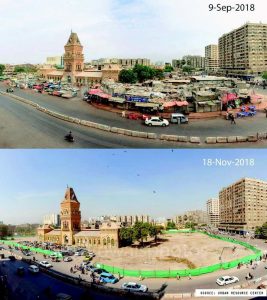 The government was showing itself an anti-encroachment body against its own people who had been running the business of their forefathers for more than a half century. There is no doubt in case of all struggling bodies (shopkeepers of this market) who had served their whole life in keeping its ascendency stable. They built the era of customers from different corners of the world. They helped their country economically and culturally as well. They put their entire effort to maintain the remarkable status of the market even they brought their sons into their business, it was not a market. It was the only source of income for many families. But what had done with them is completely misconduct in legal meanings. Beyond of emotions, many families were teared down within few days.
What Government Wants?
Empress market must be reformed in its old condition (unexplained condition of old time by the planers). There must be parks around the building, inside the building it would have a museum or a library and might be a posh dining place. For all of this they had to remove the shops and also clean the outside area of the building and they did. As the alternative commercial building of Empress Mall is being constructed and still incomplete after one year of the order by P.M.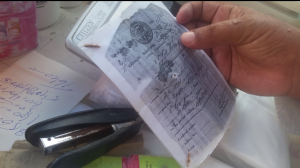 They demolished all the shops on behalf of encroachment claim but shopkeepers have been paying rent and electricity bills for about six decades before and also they have paid receipts as a proof. For which all shopkeepers had protested against the one sided action by the government and all they came out, showed their unity, their proofs, and after few months they got a permission by KMC to enter in the Empress market once again on their places as the new building was under construction. But the fall down they had to face after all the demolishment they would need many new shoulders to stand once again in the position, once they were. And after coming back they never got electricity, now they are running their electrical devices on generators as they are now just temporary in this building. But again they are paying rents to KMC (as the shopkeepers said). Eventually the market has cold down.
What Happened with Hawkers?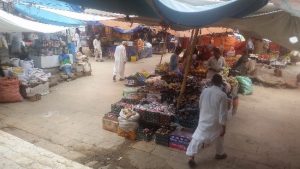 Hawkers got place right adjacent to the Empress Market. They set up their stalls over there but they are now insecure in regards of their place and business. While reporting I asked them for their current place and they just got nervous and pushed me to go away. That fear is the true picture of losing the livelihood and being bank corrupted. after a while it was unfolded that there is a Police behind them who charge Rs.50 for each day from each hawker for the place. They have also imported items like crockery, toys, bags, decoration pieces and clothes etc. for sale. Most of the items are second hand.
What Could be Observed as a Result?
A year has passed, no alternative place has built yet. The claim of encroachment on Empress Market is still in permanence. No certainty found yet in between the case of encroached land and its longtime partners, business men who are unknown by the illegal terms of land but have worked hard in their business and got fruitful results as well. So now?? Many questions arise regarding the truth behind demolishing the Empress Market and we are looking forward to each one of them. In a meanwhile, I met a customer and he expressed his experience with me. You must read his views as well.
Customer's view: "Asslam-o-alaikom, my name is Raza and I've been coming in Empress Market for last 30 years. I'm observing that the changes have arrived for the first time in regards of demolishing the market and making it a Museum and Library but the government must complete the nearest building as its alternative place immediately because now we have to think before coming here as commodities have become limited in the market. There was a time when if you need any kind of thing so you just enter in the Empress market, you could easily have that thing. But now there are limited items, limited people and limited shops even they are considered encroached in fact they (shopkeepers) are telling us that they are paying rent but still government has claimed them illegal I don't understand which type of law they (government) are proceeding. Well God bless us. Pakistan Zindabad! "
Some snaps from current situation of the Market. These pictures one day will make us nostalgic.