If we talk about being daring enough to be blunt in the journalism world, the name "Gul Bukhari" pops up in my mind. Her witty nature and sarcastic, hard-hitting comments had won my heart. Those are the words that the world needs to hear right now! Gul Bukhari is a British Pakistani open-minded journalist and a columnist who is known for her critique comments, especially in the military.
She spares no one even though she has a military background.
Gul Bukhari was born on July 2nd, 1966. Her father was an Army General name Major General Rehmat Ali Shah Bukhari, who was decorated in the Battle of Bahawalnagar in 1971.
Education: She studied Bachelor of Arts in English Literature from Kinnard College for Women, Lahore. Then she completed her MBA from LUMS.
Gul Bukhari works as a columnist with THE NATION and current affairs analyst with Waqt News.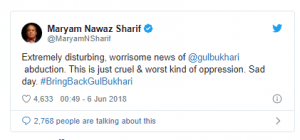 Because of her unshakable work in the field of human rights and freedom, Gul Bukhari was abducted on June 5th, 2018, by some unknown men but was returned home after a few hours. Many believe that because of her blunt comments towards the military, they are involved in this abduction in order to scare her to stop the act.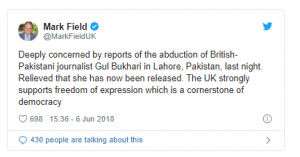 The driver who was there at the moment of kidnapping from the Waqt News studio told afterward that men in army uniforms stood guard while others in plainclothes dragged Gul Bukhari from the car. It was a natural suspicion, but the Pakistani Army fearing international backlash ensured that they were not behind this and Gul to be home safely without any harm.
Major General Ghafoor pointed out the news conference that was held one day before the abduction of Gul Bukhari. The meeting was held to aware people that the military was aware of all those negative making or re-tweeting of "Anti-state" comments on social media. The list was displayed, showing all the prominent journalists. Gul Bukhari was not on the list.
Up until now, Gul Bukhari has written so much. The ones I enjoyed: Horror Show, The bad dream, Snake in the grass, Good cop, bad cop? Boiling frogs, Taliban-a love story, Love and Anger, Silver of light in the dark night, Ahsan Iqbal, Denial, defiance and shrugged, Eye on the ball, Dear Prime minister, When pigs will fly, News: the cheese moved, Deathwish, Unfriended, Fifty ways to fail, RIP national action plan, Grin without the cat, A glimpse into the gutter, A bittersweet time, Glass half full, A bad bluff, Mian Mithu, the extremist cleric whom Hindu families dread in Pakistan's Sindh, Bilawal Bhutto is the opposition's dark horse in Imran Khan's Naya Pakistan, No love for Modi, but even less for Imran in Pakistan, Abduct me, bully me, chase me out, but I still love Pakistan and won't shut up, In Pakistan, you can risk being charged with treason if you criticize a dam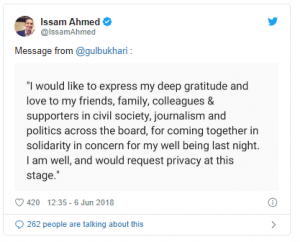 I cannot t recommend any specific article as a must-read because each article is unique in its own context. I would recommend it all!