Writing a blog on Bhit Shah is an exciting challenge for me! How? As it requires a lot of research and keen observation by visiting Bhit Shah. That I did and also going to present it in front of you but honestly speaking somehow I feel regret that if I'd go there one more time I shall have this and that too, but the time was too short and responsibility was opposite to it. Time came and I was chosen to visit and talk to the responsible people and come back with an enough amount of knowledge about the city and its origin as well.
Beyond of this, Bhit shah is small but a lovely town, sometimes called a city in district of Matiari, Sindh discovered by the saint, mystic, scholar and poet Shah Abdul Latif Bhittai (1689-1752 ) widely esteemed as the greatest Muslim poet of the Sindhi language in 18th century. Actually I met a friend Gayoor some months later and he is from Bhit Shah so we went together and rediscovered it with another eye. So let's begin with the beginning! We reached at B.S. in the afternoon. Gayoor's elder brother picked us up from the bus stop to bring us home.
Had an Iranian dish the Koobideh with Qeema Aloo (minced meat with potato) and homemade loaf in lunch at G's place and especially the Iranian dish made me mouth water, as it was delicious and new for me. After having a great lunch, we visited the Shrine of Shah Abdul Latif Bhittai Saeen (Saeen is a special word of there people, used to address one with respect).
Shrine: Shah Abdul Latif Bhittai
The shrine complex is based on Masjids, graveyard (forefather's burial ground), rest house for visitors and a huge ground for performing Dhamaal (a form of dance which carries message but particularly for some kind of people). I entered after going through a typical security checking, firstly performed Namaz-e-Asr (pray), as both (of shia and suni) Masjids were located in the Shrine, also the Baraf khana (ice stall) helping people to get ice for free of cost that was started by a local Hindu, after observing it a great deal of problem years before. People from different background come and have the privilege of the B.S. After saying 4th prayer of the day G. asked Kunji Bardar (a responsible person for the Shrine) for an interview and we went through it.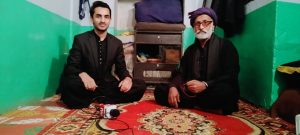 He was brought a quality of information to light and we're honored. His name is Faqeer Qadir Baksh, he told that he opens and closes the doors of the Shrine on particular time without any favor and he's been doing this for last 20 years.  He also takes part in performing Raag. He elaborated the Bait of Shah Abdul Latif Saeen, in which he told the most prominent event of Meraj when Hazrat Mohammad (P.B.U.H) went there, very revealingly. Very kind and calm speaker, he is.
We came back home. It was night now, had supper and eventually a meeting set with a RJ Mohammad Ismail representing B.S through Radio Pakistan. It was the longest interview containing the information of Shah jo Rasalo and many interesting parts of B.S. He told that Shah Abdul Latif Bhittai discovered Tamboro which is now globally recognized as he used to use it while presenting his poetry based on universal truths totally associated with the Quranic verses. In this book, popular love stories of the Sindhi culture including famous Momal Rano, Sassi Puno, Sohni Mahiwal, and more were penned down. His poetry which incredibly based on the Quranic verses.
As Shah Abdul Latif Bhittai says, whose translation could be this. "the poems you're reciting are not only poems but translation of the Quranic Verses." The complete journey of his life was penned in the book by his own self. Some people of there says that the original (hand written book by him) was drown in the Shah Jo Dhand (famous river in the B.S.) by his own self but some call it just a folktale. Who could see the past? But let me tell you one more interesting fact about it. G's father is the grandson of Shah Abdul Latif Bhittai's brother who made me eye witnessed of the oldest version of the book (S.J.R) of almost 300 years' old. They told me that they have not published it yet and wouldn't publish it forever. They have very strong emotions with the book as it is the prestigious asset they have and they are very admired from it.
Ismail told that there is a school of music in B.S. in which many students from all over the country and out of the country take admissions and get the fully command on music of Shah's poetry and choosing it as a topic in the Ph.D. and it then made me surprised.
"Passion Drives From The Heart But Within The Soul" _Saqib
Shah Jo Dhand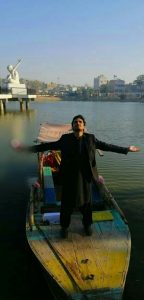 Next morning, new hope arose with 1st prayer of the day which boosted us up with new energy. After having a tasty breakfast, we started walking towards the Dhand from home. It took us few minutes and we're at the beautiful river that is locally called "Shah jo dhand".  We sat on the boat, filmed the amazing views and talked somewhat. It is famous about the river that whoever has a skin problem, could swim into it and he/she get rid of the disease.
Wow! It was made in good faith by the locals and as well the story behind the faith sounds genuine.  Though a must listen story but from an authentic source. There is also a beautiful statue of Shah Abdul Latif Saeen while playing Tamboro in the central bridge above the river. Then there was museum, school and fields. We went through all places respectively. Talking to the confident and well-spoken students of well-established school made me feel proud. I must say the basic educational structure of the B.S. is great.
Later we drove to the nearest small but beautiful city, Hala some miles ahead of B.S. It is the place, where Kashi work on tiles, pottery, decoration pieces and big vases are accomplished which is internationally recognized for many decades.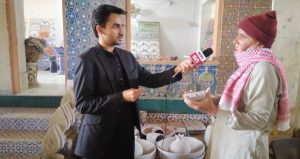 We visited Gul Kashi Center (the oldest factory of kashi), almost a century old, met the owner, whose name is Allah Baksh Somro, but the factory was run by his father before him. We're followed by the complete procedure of making pottery with him. I was very excited to see the complete process before going there, but that time I got to see that how they play with clay and draw on it when it dries and paint it then put it into the hot chimney to make it solid and stable. He told that they have exhibitions all over the country.
His father whose name is Gul Mohammad Somro won Prize of Performance by the then president, Mr. Ishaq in 1990 in Islamabad. Also his uncle won another prize from the president Gen. Pervez Musharraf in 2001. One of the most senior employee working there for 4 decades told that some changes have occurred now as different art pieces take 20 to 25 processes to be completed. We're shown up the rewards and served tea. Beautiful handicrafts of Hala always catch the one's eye ball towards. Gul Kashi Center is spread into three parts, basement, where soil work is done, ground floor is the showroom and upper portion where coloring and last touch up is done.
Lateef Ajrak Center
After visiting the wonders of Hala, back to B.S to observe the well-known asset of Sindhi culture that is Ajrak. There was a huge factory making Ajrak for many decades, using different methods and interestingly experiencing with it. The responsible person told that they use the particular fabric which is locally and nationally called Kora Latha, a part of this,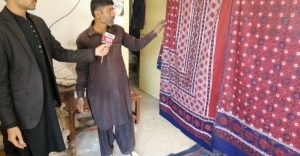 Ajrak work could be done on many other fabrics. Then, they use designing stamps for placing different patterns and flowers on the fabrics. For dyeing, they use chemicals. The factory has different rooms particularly for different purposes. The famous block printing art is globally recognized for so long. Now they are using their unique block prints on Sarees, bedsheets and suits beyond of the shawls only. I was followed by the complete procedure by the responsible person, as it was very explaining and justifying.
Latto
Another small factory was there encouraging the art of woods, made us speechless. it was based on only one room with two workers and one owner producing Latto (spinning top) for last many decades.
Nabi Baksh (owner) told that the invention of Latto was made by his father, for which he received the presidential award and Rs.25000 from the then president Gen. Zia-u-Haq and it was as old as the rule of Kalhoro. They are also producing wooden roti maker, Charpai (wooden bedstead), wooden vases and decoration pieces as well.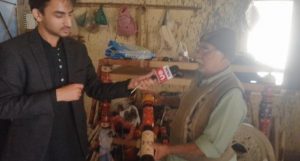 Nabi Baksh whined that it has now become difficult to go and have the particular wood from which we could make these pieces as there was a gang of robbers there who either don't allow us to get woods or give them us in the highest cost. He appealed to the current government of Pakistan to pay attention on his issue so that he could make his both ends meet. I really appreciate them and also their work which is also a valuable asset for many people.
Shah Jo Raag
The most beautiful, melodious and soulful music could be observed every day and night at the Shrine. 101 Folk singers are chosen to pay tribute to Shah's poetry using Tamboro all the way. Each singer is scheduled. International performances are accomplished and many youngers are endeavoring for their performance on Shah's poetry.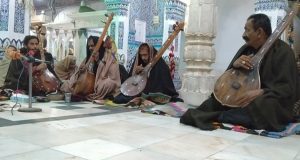 More than this could not be interesting about the place as I witnessed the peaceful environment at Shrine when I sat there and eventually I spent more time than the expected time just because of their most appealing performance. I guarantee you, you shall enjoy it and feel your inner part becoming softer and calmer. Whenever you will have the privilege to be there, just be there!
"When You Leave A Beautiful Place, You Carry It With You Wherever You Go." Alexandra Stoddard