Who knew that the young boy from a Memon family living a small village of Bantva near Joona Garh, from the province of Gujrat India would be the hero of humanity & philanthropy in the newly founded Islamic Republic of Pakistan.
Today we will tell you about how Mr. Abdul  Sattar Edhi spent all of his life working for the needy and the people who were helpless in our society. Edhi has helped millions and has influenced many more by the noble work done by him all his life. Residing in a two bedroom apartment and living life by basic necessities only, such was the lifestyle of the founder of biggest charitable organization of Pakistan Mr. Abdul Sattar Edhi.
Early Life
Born in 1928 in Bantva near Joona Garh, India. His love for humanity and physically challenged people was sown into him when he was a just a boy of eleven years, his mother became bed ridden after paralysis and it was his job to take care of her throughout the day with no else around.
After the partition, Edhi with his family migrated to Karachi and he started working in the wholesale market of clothes. Edhi's mother finally lost the battle of her life and this drove him towards helping mankind in helpless conditions.
Edhi Foundation
After working in the wholesale market for few years Edhi finally quit his business and gathered some of his community members to start a free dispensary for the people of community.  This allowed him to start the charity work he always wanted. Soon after the success of this dispensary he found it necessary to establish a welfare trust and that is how "Edhi Trust" came into being.
Donations & Funds
We all know that Mr. Abdul Sattar Edhi never hesitated to ask for those people who were in need and that is how it has been from the beginning. 2 Lac Rs. Were raised by the community when Edhi Trust was established and it was all uphill from here, the vision of Edhi Shb took the foundation sky high.
A free maternity home was established along with emergency ambulance service in the city of Karachi and people trusted in this organization. More and more donations came in and Edhi Trust grew. The reason of success behind all this was the mere simplicity and modesty of the founder Mr. Abdul Sattar Edhi.
Throughout his life, he never rested he would always work in the Trust like giving bath to corpses and checking on the needy people. He would always keep an ambulance with himself and drive it throughout the city, looking for any injured person and take him to the emergency service by himself.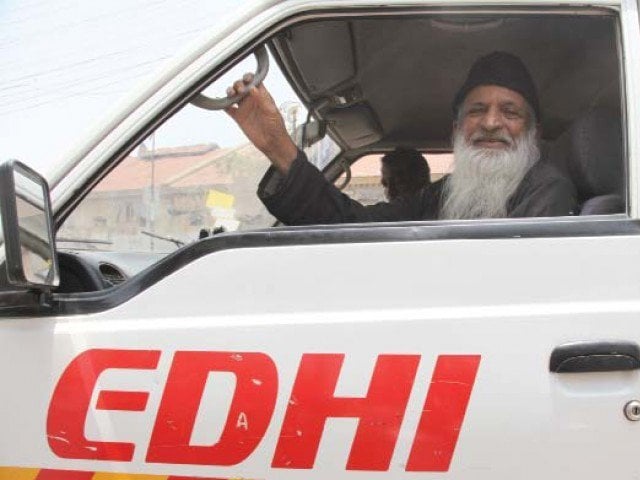 Angel of Mercy
People started calling him "Angel of Mercy" as he would help anyone no matter their color, caste, religion or physical appearance. He married Bilquis who was a nurse working in Edhi dispensary and this made them the ultimate power couple with same goal in mind that is working for humanity.
Edhi Shb strongly believed that:
"No religion is higher than humanity"
And he surely spent all his life this way by serving humanity.
Now Edhi Foundation is a major pillar of Pakistan along with working progressively in five international countries. Mr. Edhi by himself grew the nationwide welfare network. This is remarkable achievement and it could only be done by the untiring efforts of an Angel like Abdul Sattar Edhi.
Death
On 8th July 2016, Edhi separated from the world after kidney failure, his last wishes included the donation of his organs to the needy people.
SocioOn Top100
SocioOn-Pakistan's National Social Media & Business Network recognizes Mr. Abdul Sattar Edhi in its Top100 list of Philanthropists & Intellectuals.
We wish that under the supervision of his family Edhi Foundation will flourish and keep helping the needy.