The northern areas of Pakistan and Azad Kashmir are blessed with most beautiful places, whose natural beauty cannot be described. Especially, the gorgeous valleys of these areas are something that leaves one spell bounded.
When it comes to praising your own country, there's not a dictionary in this world that's enough. Everyone loves the place they're born and bred in, a country is your pride and your identity.
Pakistan is not lacking in beauty, You can call it not bothering with the work of enhancing the natural beauty. This country's most appealing destinations never ceases to amaze us with its breathtaking charm.
Pakistan is richly blessed you'll find many valleys in northern areas, you can smell the distinctive smell of water and rainy soil.  These places like heaven slither between towering mountains, echoing in their novelty as the bird's chip. The rocks have a  glossy sheen on them that never dries because of the flow that the majestic water keeps.
 The Hunza Valley, for example, is the most famous spot in our country, its appearance gives the vibes of blue water, grassy green plains. A replica of Ireland, just safer so it can be called secret heaven. The valley might not that much recognition worldwide but that doesn't mean it is lacking in ethereal beauty.
Neelum Valley, Azad Kashmir: 
Neelum valley is one of the beautiful places of Azad Kashmir and it's named after the river Neelum. It is also called as the "PARADISE OF KASHMIR".
Neelum Valley is located in the Kashmir and to the North of Muzaffarabad and running parallel to the Kaghan Valley. It contains about 370 large and small villages.
It mostly contains hills and mountains. The valley has thick forests, streams, and rivers. This valley is dipped in the most amazing beauty which attracts a lot of tourists. The valley can be approached from two different points. One from Kaghan Valley and the other is Noori Top.
The district of Neelum valley starts 43 km from Muzaffarabad. The area is also famous for its mineral mines from that particular locality mineral are being transported to other cities of Pakistan.
This land also has many local fruits which are of great taste including Apples, Apricots, Walnuts, and Plums which are famous. A large number of tourists visit it in summers. The whole valley gives fascinating and beautiful scenery. There is also a mountain "SARWALI" (6326 meters) which is one of the highest mountains in Azad Kashmir.
The valley includes lush green forests and high altitude lakes and it is like a dream come true of visitors. The snowcapped mountains and the fast-flowing Neelum River all make us believe that we are in some part of Switzerland. Many of the tourists who are interested in mountain tourism also come and enjoy here. The river is also famous for its fishing and it has Trout fish in abundance.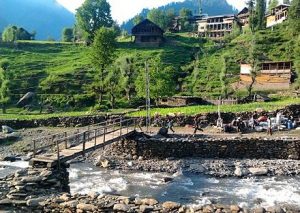 Kaghan valley, Pakhtunkhwa:
Kaghan valley is considered to be a jewel amongst the beautiful valleys of the Mansehra district in Pakistan. The valley is approximately 160 kilometers long and is a popular summer holiday resort for tourists from both within the country and abroad. The popular languages spoken in the valley are Hindko and Gojri while the national language Urdu is also widely understood.
Kaghan valley is situated at an approximate distance of 250 kilometers from the capital, Islamabad. The road that leads to the valley passes through different towns and cities, notably Taxila, Abbottabad, Mansehra, and Balakot.  The last city/town that comes before the start of Kaghan valley is Balakot.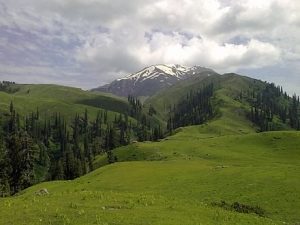 Palas valley Khyber Pakhtunkhwa:
Swat Valley is such a majestic and marvelous place that even Queen of England was all praiseworthy of it, during her visit to the valley. She stayed at the White Palace which is popular as Sufaid Mahal. She adored Swat as "Mini Switzerland". This lush green valley is full of numerous lakes and so many green grassy patches and Palas valley is one of these.
The misty kapiro lake is also located in the same valley. It is a hidden gem of the Swat valley and still uncovered by the tourists. Its virgin beauty has not been destroyed as yet, by the hands of the commercialization and curse of so-called tourism.
The journey starts from Besham and after 15 kilometers Dobair Bazaar appears, which is a Kohistani settlement along KKH. We will reach Pattan village 25 kilometers further traveling from Dobair Bazaar. From thereupon, a bridge over the Indus leads to the Palas valley through the rough Jeep track.
The lower valley is quite accessible by a Jeep route, while the Upper valley is still inaccessible. The lower valley is undoubtedly a magical place with its thick forests, mesmerizing lakes, and lush green meadows, but the place "Ledi" located in the Upper Valley is par from excellence. The meadows of Ledi and Palas are the two more popular meadows, even among the locals too. The meadows and green pastures of Palas valley belong to the tribes of the Allai valley and Palas valley itself, whereas Allai valley is in the East of the valley.
The track leads to Lower Palas valley is in very rough condition and only powerful 4-wheel vehicles can approach it, but to access the Upper Valley, good stamina for the hiking is a must. Locals can properly guide some shortcuts to reach Upper Palas through trekking.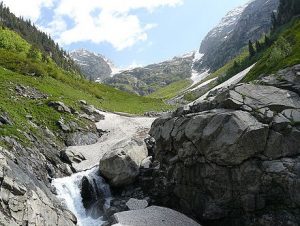 Sighar valley:
Sighar Valley is one of the Beautiful, must-visit valleys in the surrounding of Skardu. People hear a lot about cold Desert in Skardu and it is there when you reach Sighar Valley you find this great marvel. Also, it has many fruit-laden orchards where visitors can enjoy the peaceful natural atmosphere.
March to May is the spring season and tourist prefers these months also you can enjoy the beauty of Sighar Valley and adjoining areas to its fullest. June to August Mark summers in Sighar Valley, which remains warm and attracts lots of visitors. September to November is marked fall and the flow of tourists slow down bringing down the hotel prices as well. Winter follows from December to February and due to rain, snowfall temperature gets very low.
Tourists visit near to none in winters. Once you are In the Skardu, which does demand a lot of patience and time if you are traveling by road but later it is the totally carpeted road to Sighar Valley and your journey will be hassle-free. The journey to Sighar from Skardu is doable with any type of car as already it has made it to Skardu, which is a challenge in itself.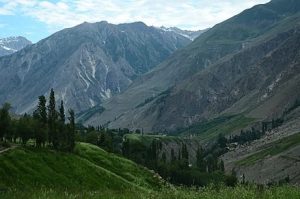 Narran valley:
Narran is a medium-sized town situated in the upper kaghan valley which is a part of Khyber Pakhtunkhwa province of Pakistan. It is one of the most beautiful parts of northern areas in Pakistan which is elevated 2500 meters above sea level. Its beauty captures a lot of people towards itself and thus it is a famous resort for tourists and trekkers. The weather of Narran is very cold. The ice on the mountain tops never melts, even in months of June and July there are glaciers and mountains are covered with snow.
The road to Narran valley travels alongside River Kunhar which Starts from the glaciers of Kaghan and flows deep down in Mansehra.  The local languages of Narran Valley are Hindko and Gojri but every individual over there can speak and understand Urdu. The dress is Shalwar kameez with a long bottom Shalwar.
The Inhabitant of Narran Valley is basically Gujars and I found them very generous and good-natured. They welcome the tourists very nicely and treats them like their own friends. Their main source of income is the tourists and their occupations include tour guides, rest house managers, shop keepers, restaurant workers, jeep drivers, some of them also grow crops and some of them are shepherds.
But their whole fortune is just gathered up in the summer season as in winter the whole area is covered up in snow and they have to move down to Mansehra or some other hotter place. For that reason, the prices over there are a bit higher. For example, the price of 100 rupees mobile card is about 107 up there. But I think that is fair enough as they this source of income just for a limited time.