Once again we are here with the monthly decrease of the most downloaded apps from the Tizen Store. As usual, the month of November 2018, in addition to the WhatsApp updates, did not bring any big news for the Tizen smartphone users. WhatsApp for Tizen received a relatively large update in early November, which again put the app at the top of the most downloaded apps list.
Despite the lack of features that Android and iOS offer, Facebook is the second most downloaded app. Facebook Messenger is now back in third place, having temporarily lost the spot in October against a new game, Counter Terror: Pursuit. Below is a list of the top 20 most downloaded apps.
The 20 most downloaded Tizen apps in November 2018
In November, five new apps were added to the top 20. However, the top ten positions are among the same apps that made it to the top 10 in the month of October 2018. Among the usual trash of WhatsApp, Facebook, and Facebook Messenger, Instagram are pursuit, Opera Mini, Hancom Office Viewer, HERE Maps, Temple Run 2, Xender, Railway Run and Photography makes a first entry into the top 20.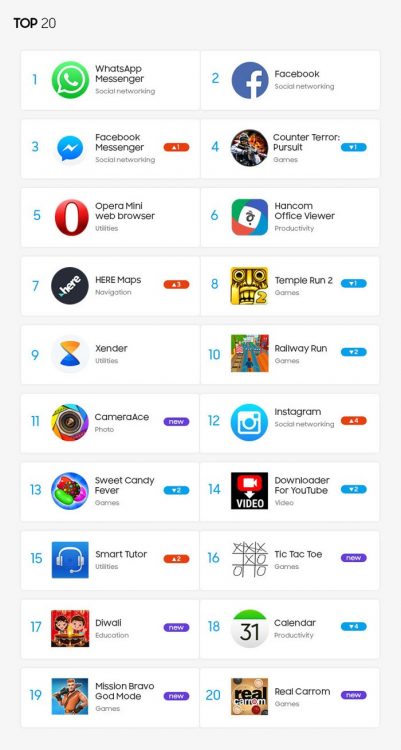 However, this also points to the lack of high-quality photo editing apps in the Tizen Store. Another new addition is the classic Tic Tac Toe game that we all love.
Mission Bravo God Mode and Real Carrom are the last two newcomers in the top 20. The list also includes Sweet Candy Fever, Downloader for YouTube, Smart Tutor and Calendar.